3.1. Appendix. Ennio Morricone, Roma Sinfonietta Orchestra, Lirico Sinfonico Romano Choir. Susanna Rigacci (soprano), Luca Pincini (cello), Carlo Romano (oboe). Nelson Mandela Forum, Florence, May 16, 2015
After having attended this concert, I felt the need to add some short reflections to the previous chapter, even though this could shift the balance it in favor of Morricone. As I have already mentioned, after a period spent far from the stage due to health issues, Morricone came back in 2015 and in three months conducted almost twenty-five concerts all around Europe.
My personal relationship with Morricone cannot be exposed in a published essay. I will just say that I saw an old friend striving to conduct a long 24-piece program. However, while observing that the audience was composed of fans of different ages, from kids to senior citizens, along with famous people from the pop and the academic music scene, I noticed something that was not new to me but that struck me again. Things changed a lot since I wrote my first musicological study on Morricone more than twenty years ago, but people's appreciation of him did not. This strongly confirms one of the conclusions I came to at that time: for more than half a century Morricone has been object of an intergenerational and interclass cult that I have never seen, not even to a lesser degree, for any other living composer.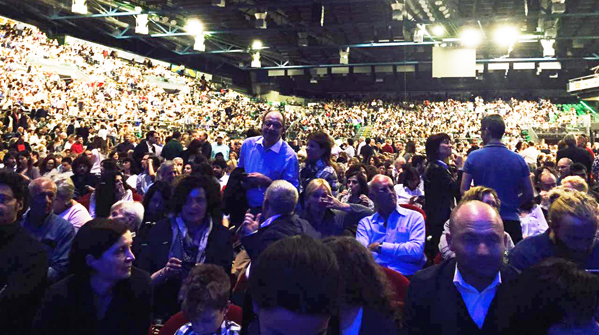 The audience at the Mandela Forum in Florence for concert conducted by Morricone (May 16, 2015).
Waiting for the concert to start.
I have always considered such a peculiarity as a sign of gratitude for who, despite his vanguard musical tendencies, kept composing beautiful music that is understandable and 'everlasting' and, therefore, it is not a simple song that one cannot live without for a summer and immediately forgets in the Fall. Yet, nowadays I feel the urge to add something more to that idea in which I still believe: Morricone demonstrates a very rare perseverance and an attachment to his job. He debuted in 1961 with Il federale (dir. Luciano Salce) and his first success (Per un pugno di dollari, dir. Sergio Leone), came in 1964. This means that Morricone has been close to his audience for more than fifty years and to see just a very small part of it (but the hall was fully booked) has been for me a source of interest and emotion that matched the joy of seeing him live.
What seemed to me even more relevant (this is another conclusion I reached while writing my book on Morricone) is that the 'stone guest' effect is never there during one of his concerts. Undoubtedly there have been spectators who recalled the facial features of actors and actresses: the sullen attitude of Claudia Cardinale, the electric Eli Wallach, the great, chameleonic Gian Maria Volonté, the brazen-faced Charles Bronson, the pensive Rod Steiger or the libertine Florinda Bolkan. There's nothing wrong with that. Others, though, would hear and see Johann Sebastian Bach whom Morricone invokes in his music either by name (in German notation B-A-C-H) or rhythmically twisted but still recognizable by the modulating arpeggios.
From the 1970s onward a new generation of directors arose, one that considers Morricone's music too cumbersome, too imposing, too defensive of the ethical premises of a kind of cinema those directors left behind. They were not wrong and, in fact, since then Morricone walked more and more the path of conducting, which is now his main activity. I have no doubt that such a choice was also motivated by economic reasons linked to the crisis of Italian cinema. Morricone also had the need to keep a standard of living that cinema could not provide any longer (and consider that he rejected several US proposals because of the implied long intercontinental flights). In any case, at the Mandela Forum I was surrounded by an audience that almost religiously participated in an emotionally captivating experience.
I do not intend to write about that emotion because is a very personal, irrational feeling. I would rather point out a fact that I had not noticed until then and I had never seen in other Morricone's live concerts, above all when he conducts in Rome. I am referring to a choreography of lights – luckily not too intrusive that must have been planned by the Mandela Forum's organizers. Morricone did not seem to notice that some pieces were 'accompanied' by a particularly cold light tone and others by a very warm one. The only light sign everyone would be aware of was a nearly blinding white light that marked the end of each one of the five groups of pieces on the program (La vita e la leggenda, Cinema dell'impegno, etc.).
All this does not fit the Morriconian seriousness, but it confirms an overall tendency in many kinds of shows as those I am presenting here and singles out an aspect I will discuss briefly in Part IV.
---
Source: live at the Nelson Mandela Forum, Florence, May 16, 2015.
---